Gabe Hagard BVSc
I was born a Londoner in the East End and spent two years as a toddler in Uganda where my dad worked as a doctor. My family moved to Glasgow where I stayed long enough to develop quite an accent, before losing it completely when we moved to Cambridge (UK).
As a boy I kept praying mantises and scorpions as well as the more usual guinea pigs and rabbits, and at age twelve I realised the only thing I ever wanted to do was to become a vet. After qualifying from Bristol vet school in 1993 I went straight into private small animal practice for two years and found that I enjoyed all aspects of it, but had a particular passion for surgery. I then spent 10 years working at the RSPCA Harmsworth Hospital in London where I gained a tremendous amount of medical and surgical experience, as well as filming Animal Hospital for the BBC.
It was there that I met my wife Mia, a New Zealander, and it was only a matter of time before we moved to her home town of Hamilton. We have 3 children and multiple pets. When I'm not vetting I like playing the piano, running and enjoying nature.
Bart Karalus BVSc

I was born and raised in mooloo territory, and grew up on a small farm on the Southside of Hamilton. I have always enjoyed working with animals, and through my schooling years would always find a farm to work on over the summer holidays. I would look forward to the Vet visits and it didn't take long for me to decide that this was the profession for me. I graduated from Massey University in 2005 and took my first job at a "mixed animal" clinic in Te Awamutu where I enjoyed 2 years of predominantly dairy practice.
Being raised in the Waikato ensured that by 5yrs old I joined my first rugby team and can still remember running around the Claudlands showgrounds fields chasing an egg shaped ball and calling it rugby. I was lucky enough to use rugby to see some of the world completing two seasons in Scotland and two in Germany. It was during my time in Scotland that I met my wife who was finishing off a university degree in Glasgow. I worked at a busy small animal charity hospital in the east end of Glasgow for 4 and a half years in total, working with a wide range of household pets and enjoying a high medical and surgical caseload.

We have recently moved home to the Waikato to put some roots down and am excited and privileged to join the experienced team here at Newstead.
Diane Wescott (Vet nurse DipVN)
I moved to Hamilton in 2007 from South Auckland where I was a primary school teacher.
I then decided that I needed a change in career and since I've always loved animals, I headed back to tech and studied to be a Veterinary Nurse. I have a lovely husband and 6 cats(!) at home, that keep me busy and out of mischief.
Sonia Priddey (Vet Nurse Cert)
I completed my Vet Nursing certificate in 2011. Hamilton has always been my home town, my previous employment was in childcare, but when my children (I have 3), outgrew that stage of life, I decided to try something new – my love for animals drew me in this direction.
I have 3 dogs and 3 cats and a turtle named Murtle. I love coming to work and never knowing what the day may bring.
Mia Hagard (Vet Nurse DipVN)

I was born in the Waikato and moved around a few cities in the North Island with my family, before finally settling in Auckland. I had always wanted to work with animals, so when I finished high school I attended Unitec in 1997 and gained my vet nursing qualification.
I worked in a small animal practice for a year before starting work at the Auckland SPCA. I gained a huge amount of experience there that then lead me to Massey University Vet school, where I was a vet nurse tutor in the surgical department. This was an amazing place to work and once again I gained copious amounts of experience. I then headed overseas in 2005 for my OE where I met my husband, Gabe while locuming at the RSPCA in London. I continued to locum in small animal practices, referral centres and emergency clinics around England, until we planted ourselves in Bristol for 2 years, where I worked at an after hours emergency and charity hospital. In 2008 we both moved back to NZ to raise a family. Now we are happily established on a lifestyle block with our 3 children and loads of pets. After being out of nursing for a couple of years while having our kids, it feels great being back in the vet industry and I love working with such an awesome team at Newstead. Every day brings a new, exciting challenge!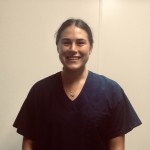 Jenna Moon (Vet Nurse Cert)